Parking
All events will be held in Merrick Hall, in the center of Ohio Wesleyan's verdant campus.
Enter "Selby Parking Lot" or "81 S. Henry St., Delaware, OH 43015" for GPS-navigated directions (e.g. Google Maps).
The primary parking lot for attendants is the Selby Stadium Lot, located across Henry St.
Additional parking can be found at the Science Center Lot and the Meeks Aquatic Lot.  Please see maps below.
There is no fee to park in any of these lots.
Campus Map 1 – close-up view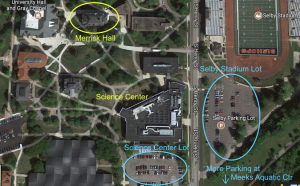 Campus Map 2 – wider view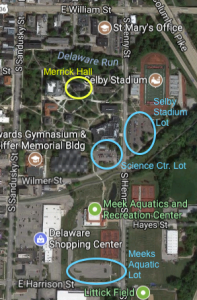 Hotels
If you are planning to spend a night before or after the meeting, the following hotels are the closest to the OWU campus:
Pacer Inn & Suites (

259 S Sandusky St, Delaware, OH 43015

).
Quality Inn & Suites (

1251 Columbus Pike, Delaware, OH 43015

).
Baymont Inn & Suites (

1720 Columbus Pike, Delaware, OH 4301

5).
Airport
For attendants who plan to fly in, the nearest airport is the John Glenn Columbus International Airport (CMH). Ohio Wesleyan University is approximately a 35 minute drive north of the airport.
Taxis, Uber and Lyft service this airport.